Long-lasting 600 puffs Disposable BMOR Ringo
When you fall in love with the flavor of the vape in your palm, you probably want it to last longer. How about having 600 puffs for longer satisfaction?
BMOR Ringo is cute and compact, its silky grip texture fits perfectly in your palm, and your lips would love its crystal mouthpiece, while it provides you with 16 amazing flavors with 600 long-lasting puffs.
It is an impressive vape device for any vaper looking for an extraordinary vaping experience.
Welcome to the Vape Club of Ringo.
With a stylish fashion design, the Ringo stands out from the United Kingdom E-cigarette standard, also retains all the same performance and feature benefits.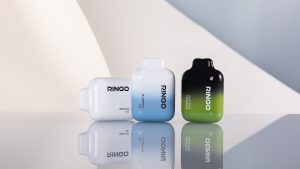 Long-Lasting
While it tastes amazingly great for 600 puffs, it also has an impressive 500mAh built-in battery. The battery life is perfect for new vapers and casual users, you can enjoy uninterrupted vaping.
Satisfying Clouds
With the upgraded mesh coil inside, Ringo brings you fulfilling clouds, consistent fresh flavors, and a great and tight mouth-to-lung (MTL) draw that satisfies you.
Well design
Its cute and compact body, silky grip texture, crystal mouthpiece, and eye-catching futuristic look stand out from conventional vape devices.
16 Flavors:
Blueberry Sour Raspberry
ice mixed berries
Watermelon ice
Strawberry Raspberry Cherry
Blue Razz Lemonade
Mr. Blue
Pineapple Ice
Strawberry ice cream
Gummy bear
Spearmint
Fizzy cherry
Red Apple Ice
Banana ice
Blueberry ice
Blueberry raspberry
Red Juice
Ringo Parameters
Capacity: 2ml
Resistance: 1.2Ω
Nicotine Strength: 20mg/ml
Battery Capacity: 400mAh
Size: 44.26×21.3x64mm